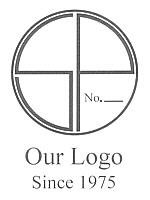 Record Album Storage
Stan Pike - furniture maker
---
---
---
To order by Phone: (413)624-7116 or e-mail: StanPike@StanPikeDesigns.com
We accept payment by check, Money Order or PayPal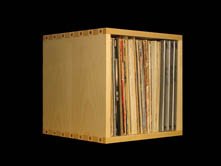 INV Pyramid Standard Horizontal &nbsp Standard vertical
$1199 - $1899 &nbsp $549 - $849 $549 - $849
Standard Double Horizontal
$749
Deluxe Hard Yellow Pine Double Horizontal
$799
Deluxe ash Double Horizontal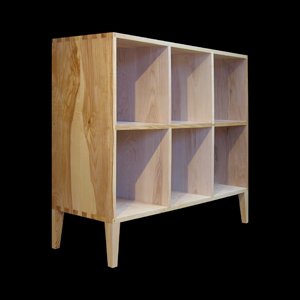 $999 -$1199
We make a variety of Record album storage solutions. All are designed to economically ship by FedEx Ground. All cabinets come in a standard style made of clear eastern pine with mahogany, oak or walnut legs and joinery details, or may be made in a variety of hard woods including ash, cherry, maple, oak, walnut and hard yellow pine at a higher price. See wood selection:
All cabinets are completely made by hand to exacting quality standards and should last a life time. Typical storage capacity is 85 Lps per cubicle and they are sized to hold all record albmuns including boxed sets.
We also make custom stereo cabinets as shown below.
Custom Made
Custom Price
---
---
Record Cubes (Record Storage Cubes)
(Standard high quality Clear Eastern Pine with oak details)
Outside Dimensions: 14 1/4" H x 14 1/4" W x 14 1/4" D
Inside Dimensions: 12 3/4" H x 12 3/4" W x 14 1/8" D
3/4 View
Corner Detail
Side View
Rear View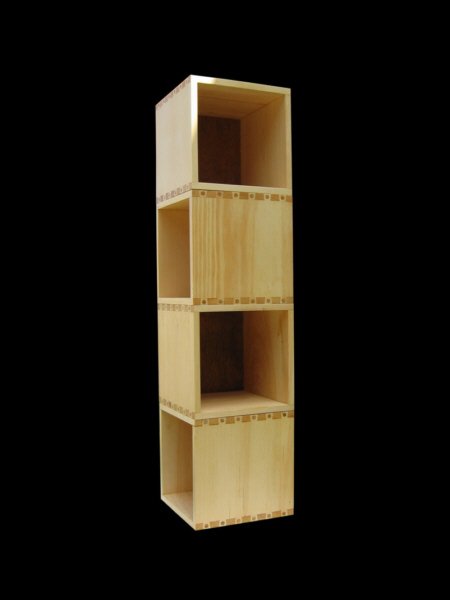 Stacked Regular Cubes
---
---
Copyright ©2011 -2018 Stan Pike Designs.
In single quantities each Cube is $130.00ea. Shipping $30 by FedEx Ground
We also make this in a slightly larger size 15" square which holds all larger size box sets. In single quantities each is $150.00. Shipping $35 by FedEx Ground
Also available, are deluxe versions made of your choice of hardwoods. 14 1/4" or 15" size $225 ea. In walnut or cherry $250 ea.
Contact us for quantity discounts.
record cabinet, record album storage, record storage, record crates, stereo furniture, stereo cabinets