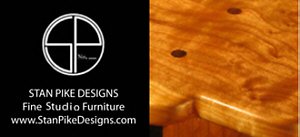 Stan Pike - furniture maker
Designer & Maker of very special handmade furniture

"Form is a mystery that defies description but brings people pleasure." - Alvar Aalto
"Wood is universally beautiful to man. Man loves his association with it; likes to feel
it under his hand, sympathetic to his touch and eye." - Frank Lloyd Wright
"An artist is a poet in his or her own medium. And when an artist produces a good
piece, that work has mystery, an unsaid quality; it is alive." - Toshiko Takaezu
---
---
What I do
For over thirty-five years, I've experimented with the infinite possibilities of design in wood furniture. During this time my work has evolved through several styles as I've discovered new ways to express myself through furniture making. I remain committed to making the finest, most visually interesting and functional, hand made furniture at the best possible prices.
---
---
---
---
My Philosophy of Design
I believe in "clean" design without ornamentation. A simple form can take on a sophisticated look when the natural elements of the wood such as grain and color are taken into consideration during the design process. In addition, sanding the wood to an extremely fine level and applying pure natural finishes make the end result very special. Also, as a rule I do not use endangered or rare woods but rely on the standard species that grow in New England where I work. Although it can be time consuming, all joinery is made by hand. It's more interesting to do it that way and the resulting slight irregularities give the work a more warm and comforting look. My work is all about patience, for the maker and also the client. While it may take some time for me to create your unique piece of furniture, it will continue to provide great pleasure through its beauty and functionality for very many years to come, making the wait more than worthwhile. That is my guarantee.
---
---
---
---
Contents
Back to Top
---
---
Thirty Drawer Apothecary
Back to Top
---
---
Hanging Cabinet HC-3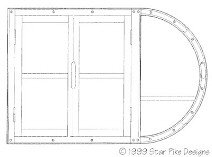 Back to Top
---
---
Dresser/ Chest of Drawers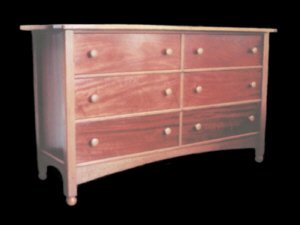 Back to Top
---
---
A Letter of Thanks:
This letter expresses the satisfaction I strive to achieve for my clients.
---
---
Contacting:
Please feel free to contact me if you have any questions concerning having a piece made. I would also be more than happy to answer your questions concerning furniture making, or the care of your fine furniture pieces.
Phone communication is preferred. Please be sure to check your inbox if you e-mail because I answer all inquiries. It would be appreciated if you would let me know you've received my replies.
I look forward to hearing from you.
Stan Pike - Furniture Maker
34 Chapman Street
Greenfield, MA 01301
Visitors welcome by appointment.
Tel: (413) 624-7116 e-mail: stanpike@stanpikedesigns.com
---
---
Best Deals TV Show
Best Deals LA.com - Best consumer deals for bargan hunters in the greater Los Angeles area - TV show buyers guide resources.
Back to Contents
Back to Top
---
---
Copyright ©1999 - 2020 Stan Pike Designs.
Last revised:
January 2, 2020
apothecary cabinet, apothecary chest, apothecary chests, bed stand, cd chest, cd chests, coffee tables, comic book chest, comic book chests, drawers, desks, jewelry chests, hand crafted furniture, handcrafted furniture, hand made furniture, handmade furniture, small bed stand, ultimate jewelry chests